Our Solutions
Our Platform
Our platform is an end-to-end pharmacy platform covering everything from e-commerce to market leading last-mile services. We enable the digital pharmacy, where relevant knowledge is always easily accessible to the professionals in the pharmacy and where new knowledge is constantly captured and built into future customer interactions.
The end customers of our platform are offered a safe method of accessing all pharmacy products available in the market, obtain personalized, discrete guidance and ultimately receive their order quickly.
End-to-end pharmacy
The platform includes all functionalities related to the pharmacy operations, including selection, substitution and changing of medicine orders, decision-support for pharmacy control procedures, including checking for medicine related issues, interactions, potential overordering of same substance etc.
The fully integrated e-commerce stack is adapted for the heavily regulated, and often dynamic external requirements of the pharmacy sector.
Customer service is integrated in the customer facing part of the platform, including both anonymous or non-anonymous chat, phone, and email customer interactions. The customers are directly funneled through to either front-end customer service, covering general questions and issues or to the back-end customer service, where pharmacists and other specialized personnel addresses more personal and complicated questions, including medicine questions.
Our vision
Our vision of the future pharmacy is less of a place where you get your medicine and more a place where you can access trusted information and guidance related health. This will increasingly include digital healthcare products that often can substitute or support a medicine-based treatment.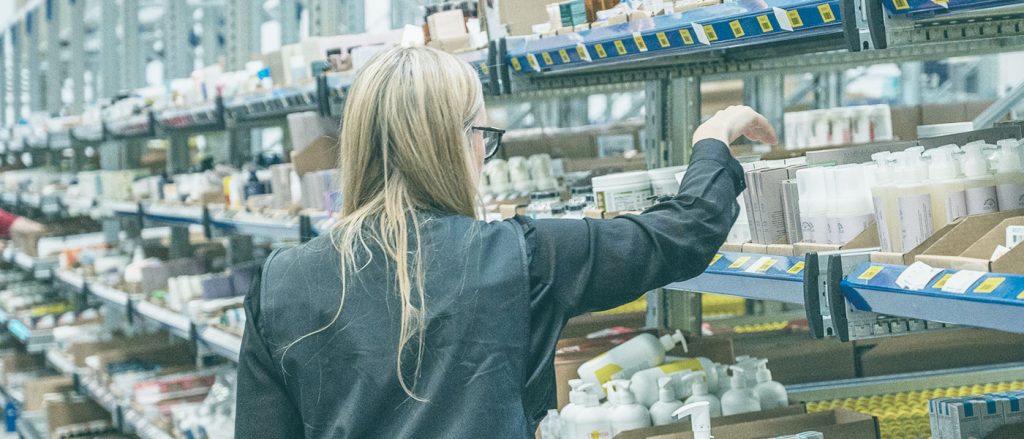 Our fullfillment capabilities
Our purpose is to reinvent the pharmacy to always make it accessible to everyone, always with professional and personalized guidance and lightning-fast delivery of all pharmacy products available in the market.
Our fulfillment capabilities are based on a series of sophisticated integrations with leading pharmacy suppliers enabling access to the full range of pharmacy products, including Rx, available. Our platform and fulfilment processes are built into and for a heavily regulated sector with extensive and often dynamic external requirements.
More than a pharmacy platform
As part of our pharmacy platform, we also offer GDP wholesale capabilities, including temperature-controlled warehousing, pick and pack and leading last-mile delivery options, including same-day delivery to around 50% of Danish households.
Our pharmacy fulfilment is fully integrated and optimized with the pharmacy processes, including DMVO integration, control processes, application of dosage label and various both built-in quality control processes.
Focus on sustainability permeates all our operations and interactions with partners. Some examples include recyclable FSC-marked packaging materials, minimal use of plastic and climate-compensating last-mile transportation.
Our purchasing capabilities
Our aim is to ensure accessibility of all pharmacy products available in the market be that prescription medicine, OTC and/or branded goods.
Our purchasing capabilities are based on an extensive experience of purchasing products within healthcare and wellbeing from wholesalers and directly from suppliers around the world.
Based on insights
Based on our extensive network, sophisticated algorithms as well as customer and market insight allows us to forecast not only future sales of relevant categories, brands and products but also where to purchase those most profitably and predicting possible new products.
We use a sophisticated order management system with standard integrations to different finance systems, webshops, 3PL, EDI and APIs to own systems allowing our customers to handle not only their stock, costs and profitability but also traceability, durability and product safety.


Our media agency
Our full-service media agency transforms data into valuable insights for our partners in four business areas:
Market data and insights
Creative Development and content production
Media placement and exposure to relevant customers
Consumer insights and performance data
We strive to become the most efficient and valuable marketing platform for market leading (medical) brands by delivering data, knowledge-driven insights, visibility and increased revenue to our partners.
With our 360-degree setup, we can handle the entire process from analysis to media recommendations, planning, creative development and implementation.
Mix and match catalog
We do not believe in a "one-size-fits-all" solution. Therefore, our services are presented as a mix-and-match catalog that allows you to design an optimal package based on your own brand strategy and KPIs. By combining multiple services, we are able to execute a 360-degree marketing strategy and maximizing value.